Homeopathy Prevails In the Storm of Corona
---
---
This book will be an inspiration for all the homoeopaths who dare to treat critical diseases like corona. It will guide you how we can treat critical diseases with classical homoeopathy and talking about corona; you will learn how we can handle this disease in home quarantine, ...Read More
This book will be an inspiration for all the homoeopaths who dare to treat critical diseases like corona. It will guide you how we can treat critical diseases with classical homoeopathy and talking about corona; you will learn how we can handle this disease in home quarantine, without any oxygen support.
In this short treatise on Covid 19, Dr. Vijaysinh Nikam brings out some relevant points starting from the significance of immunity in the incidence of the disease and makes a strong argument to do everything to increase it to some important dos and don'ts for this purpose. There is description of cases of Covid 19 treated by him which are given in detail and with day to day follow ups. Indications of the remedy have been given and also he has been honest and has pointed out where the remedies did not work and also what the author did when that happened.
A strong mentor who will teach you the importance of Classical homoeopathy, importance of single prescription and being confident on your prescription despite several ups and downs and also when you should take the decision to change the remedy. You will learn how to manage the challenges during the case and what decision one must take according to the situation.
This book can be of great help to Allopaths, Homoeopaths and the general public as guidelines regarding how to handle corona and what type of population is more susceptible to infection.
    "Only a predictable Homoeopath can treat an unpredictable corona".
| | |
| --- | --- |
| Pages | |
| Format | Paperback |
| Imprint | B.Jain Regular |
| Language | English |
Add a Review
Your email address will not be published. Required fields are marked *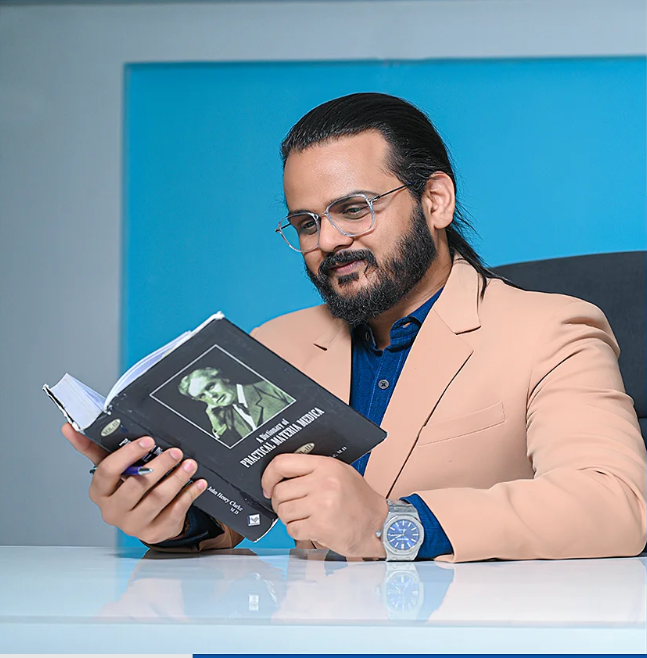 Dr Vijaysinh Nikam
Shree Dattaleela Homoeopathic Hospital and Critical Care Healing center is the brain child of Dr. Vijaysinh A Nikam. He is being practicing Homoeopathy for last 15 years. He has completed his U.G. from Bharti Vidhyapeet College, Pune and done his M.D. in Materia medica from Dr. D.Y.Patil Homoeopathic Medical College & Hospital, Pune.Walking on the path of his father Dr. Amarsinh Nikam [a renowned Homoeopath], Dr. Vijay has also taken vow to heal people but in most gentle way without... Read More