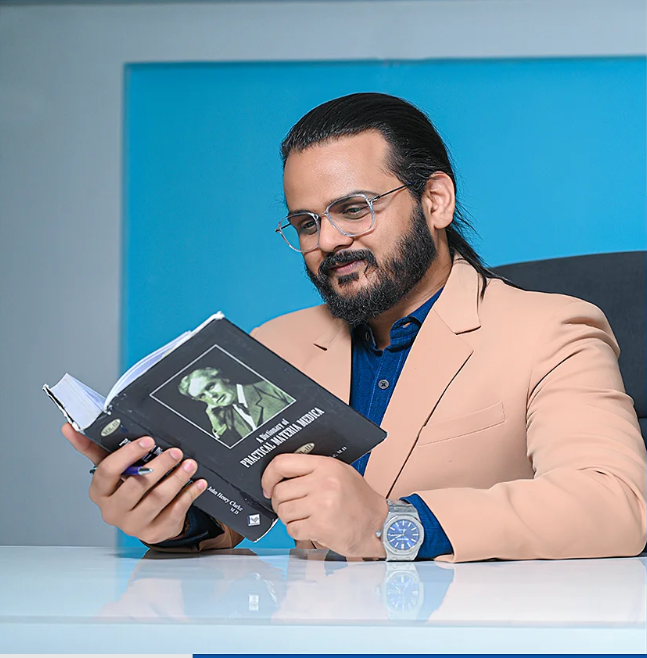 Dr Vijaysinh Nikam
Shree Dattaleela Homoeopathic Hospital and Critical Care Healing center is the brain child of Dr. Vijaysinh A Nikam. He is being practicing Homoeopathy for last 15 years. He has completed his U.G. from Bharti Vidhyapeet College, Pune and done his M.D. in Materia medica from Dr. D.Y.Patil Homoeopathic Medical College & Hospital, Pune.

Walking on the path of his father Dr. Amarsinh Nikam [a renowned Homoeopath], Dr. Vijay has also taken vow to heal people but in most gentle way without surgeries, saline, injections etc.

Dr. Vijay has also worked in ICU care unit at Medi-point hospital & done diploma in emergency medicine and gained a plethora of knowledge and experience which he is applying successfully to handle and cure critical cases with Homoeopathy.

Homoeopathy is doing wonders in conditions like hair fall, obesity, skin diseases etc. but Dr. Vijay Nikam is proving since years that Homoeopathy can also be the first line treatment in most critical cases. He has successfully saved numerous patients from going through the harsh procedures of treatment like lung transplantation, kidney transplantation, liver transplantation, angioplasty, craniotomy, cholecystectomy, appendicectomy, surgeries for disc prolapse, valvoplasty, infertility and many more such procedures.
He is working with a team of 5 experienced assistant doctors and during pandemic Dr. Vijay and his team has worked intensely and treated number of corona patients without hospitalization. He is working efficiently with his team on critical cases, research works and new therapies. Bringing social awareness and also counseling the patients to lead a better and healthy life. Recently he has introduced the concept of "Oxygen Therapy" in Homoeopathy.

His mission is to train new generation of Homoeopaths to practice classical homoeopathy and bring worldwide glory to Homoeopathy.