Therapeutics Of Intermittent Fever
| | |
| --- | --- |
| Author: | H.C. Allen |
| | |
| | |
| ISBN: | 9788131917879 |
| | |
| Imprint: | B.Jain Large Print |
| | |
---
---
The treatment of intermittent fever prevalent during old times was mainly by the administration of massive doses of quinine. This type of suppressive treatment practised by the dominant school of medicine is not only positively injurious but also often fatal. Massive doses of Peruvian bark or any ...Read More
The treatment of intermittent fever prevalent during old times was mainly by the administration of massive doses of quinine. This type of suppressive treatment practised by the dominant school of medicine is not only positively injurious but also often fatal. Massive doses of Peruvian bark or any of its alkaloids can only suppress the symptoms and thereby increase the suffering of the patient. Hahnemann's lesson in the "chronic diseases" on the treatment of acute syphilis must be applied to fevers of all types and acute diseases of every name and every kind irrespective of habitat. Dr. Bell's admirable monograph on "Diarrhoea and Dysentery," and a desire for some better guide in the treatment of intermittent fever has been the inspiration which has induced the author to undertake the labour of the present compilation. 'Therapeutics of fever' deals with therapeutics of typhoid, typhus and fevers of every grade and name, from acute sporadic and epidemic intermittent to the malignant type of the malarial fevers of the tropics.
The present edition has erased misprints and correct, as far as may be, in- former sins of omission and commission. The difficulty of mastering our voluminous and rapidly increasing symptomatology has naturally led to the demand for monographs and repertories; hence to the bracketed comparison of the former edition have been added with some leading characteristics of each remedy and a complete repertory.
Total number of medicines in materia medica part is 147.
Whole febrile condition is divided into four stages i.e. chill, heat, sweat and apyrexia. Each of this stage further subdivided into type, time, location of, cause etc. Thereby the selection of the rubrics becomes more accurate and easier.
General accompaniment of the fever is given separately- begins from symptoms of the mind and ends with constitutional and general. But in other repertories these symptoms have to be looked at in regional chapters.
The book has got both materia medica part and the repertory part so one can use it for easy reference.
A complete collection of the symptoms and medicines available in one book.
| | |
| --- | --- |
| Pages | 332 |
| Format | Paperback |
| Imprint | B.Jain Large Print |
| Language | English |
Add a Review
Your email address will not be published. Required fields are marked *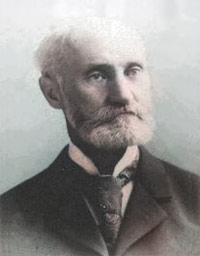 H.C. Allen
Dr. Henry Clay Allen was one of the guiding lights of Hahnemannian homeopathy. Even though he was steadfast in his adherence to the principles of Hahnemann, he always strived for constructive discussion. After receiving his graduation homeopathic training at Cleveland Homeopathic College at Cleveland, Ohio in 1861, he moved to Detroit and was appointed Professor of Materia Medica at the University of Michigan, Ann Arbor in 1880. In 1892 Allen helped found the Hering Medical... Read More