Decachords Top Ten Indications Of 120 Homeopathic Remedies
---
---
A suggestion made by Sir John Weir during a course of lectures to students led one of them to prepare for memorising purposes, a pocket notebook giving concise form the leading indications for about 50 remedies. It is now given this more permanent and extended form. When first introduced to the Materia ...Read More
A suggestion made by Sir John Weir during a course of lectures to students led one of them to prepare for memorising purposes, a pocket notebook giving concise form the leading indications for about 50 remedies. It is now given this more permanent and extended form. When first introduced to the Materia Medica the student is bewildered by the mass of symptoms presented under each drug and he often seeks for a way out of the seeming maze. "Decachords" will provide the earnest student with some necessary clues guiding him to a practical acquaintance with more frequently used remedies. A number of additional remedies have been included at the end of the book, the indications taking the form of "Pentachords". These bring the total of drugs dealt with up to one hundred and twenty. The notes are gathered from various sources. Due acknowledgments are made to Sir John Weir and Dr. Wheeler, whose valuable lectures have furnished much of the material. Well-known works by Drs. Allen, Cowperthwaite, Nash and others have also been drawn upon for many keynotes.
In the starting General Hints are given such as-
- Do not think that remedies particularly adapted to women are never indicated in the male sex. Sepia officinal is, for example, is frequently called for in men.
- "Generals" and "mentals" rank first, then -peculiars" and finally "particulars." "Generals" are symptoms which the patient refers to his "ego," while "particulars" are referred to his complaint; e.g., "I feel worse in winter" is a general, but "My rheumatism is worse in cold weather" is a particular. –Particulars are invariably emphasized by the patient.
This new edition has been upgraded in the following ways-
- Abbreviations & names of drugs have been standardized according to Synthesis is the whole art.
- Improved and more readable font has been introduced with increased font size.
| | |
| --- | --- |
| Pages | 146 |
| Format | Paperback |
| Imprint | B.Jain Regular |
| Language | English |
Add a Review
Your email address will not be published. Required fields are marked *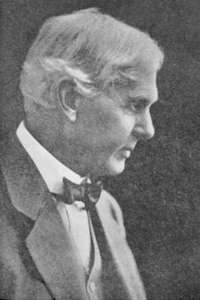 John Henry Clarke
Dr. J. Henry Allen (1854 1925) was President of the International Hahnemannian Association in 1900 and was Professor of Skin and Venereal Diseases at the Hering Medical College in Chicago. He is the author of two books The Chronic Miasms and this, "Diseases and Homoeopathy Therapeutics of the Skin". Both are regarded as classics of Homeopathic literature.Dr. Clarke was one of the most eminent homoeopaths of England. He had his famous Clinic at 8 Bolton Street, Piccadilly, located in... Read More